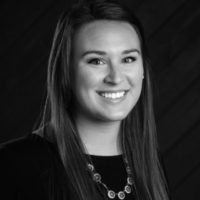 Emmi Abel-Rutter
OH
Based in Cincinnati, Emmi has been working with the Cutco product for 8 years. For the past 3 years, her focus has narrowed to realtors, loan officers, builders, lawyers, & a variety of business owners that understand the lifetime value of a client.

She graduated with a BS from the University of South Carolina (Go Gamecocks!) in 2017. Shortly after, she returned to Ohio to pursue her passion for teaching others how to build & maintain client relationships through properly executed, high quality, & strategic gifts. On a personal note, Emmi enjoys travel — she's been to 40 states & 7 countries / territories, all within the last 8 years. In March of 2021, she is headed off on a 4 Month U.S Road Trip, exploring the country & connecting with her out-of-state clients along the way. Fun Facts: She has 10 living grandparents. She's been cage diving with 7 Great Whites in Australia. Her dream dog is a rescue Dalmatian. Her go-to TV Show is Parks & Recreation.

A message from Emmi: "Our gifting program isn't for everyone, but if you're looking for a unique & creative way to engage your clients and generate repeat & referral business for years to come, I look forward to connecting with you & mapping out a 'gifting system' that works for you & your business. I can promise you energy, transparency, & a ton of client retention tips along the way."
Contact me

to learn more

Or call 513-687-0635
Happy Client Testimonials
These are fantastic knives, and I';m proud to give them as closing gifts. They are very high quality and the presentation is so nice in the Cutco packaging with the red bow. I always tell my buyers how my husband & I fight over who gets to use the Cutco knives because they are far superior to the other knives in our drawer. Also love the beautiful cutting boards, which compliment the knives and make the combination a perfect match.
Gina Prickel
Sibcy Cline
Hi Emmi - a friend of mine, the groom from the wedding party, literally called me to tell me that the Cutco knives that I gave them were his very favorite gift!! He said he used those the most of anything that they received!!
Sheryl Wiener